Overview
Chitin
The polymer chitin is widespread in nature and possesses fascinating mechanical and optical properties that one would like to make technically useful as well. Chitin-based materials would be particularly attractive because they are hydrophobic and therefore, unlike cellulose-based materials, cannot absorb water, which makes them resistant to mold. In addition, they become fire-resistant through chemical modification, are mechanically very robust and, unlike synthetic polymers, compostable.
An Interdisciplinary Team
Since these research goals can only be achieved on an interdisciplinary basis, seven scientists from six institutes at the University of Stuttgart are contributing their core expertise in the project:
Prof. Sabine Laschat, Spokesperson, Institute of Organic Chemistry (IOC): Chemoenzymatic synthesis of organic functional molecules (ionic liquid crystals, carbohydrates).
Prof. Hanaa Dahy, Institute of Building Structures and Structural Design (ITKE): Building materials, component development, sustainability.
Prof. Harald Garrecht, Institute for Materials in Construction & Materials Testing (IWB): materials in construction, special concretes.
Prof. Frank Giesselmann, Institute of Physical Chemistry (IPC): Soft Matter, Lyotropic Liquid Crystals.
Apl. Prof. Dr. Thomas Sottmann, Institute of Physical Chemistry (IPC): Complex fluids, production of porous biobased materials.
Dr. Linus Stegbauer, Institute of Interfacial Process Engineering and Plasma Technology (IGVP): chemistry of bioinspired structural materials.
Prof. Ingrid Weiss, Institute of Biomaterials and Biomolecular Systems (IBBS): Chitin biosynthesis & biomodification.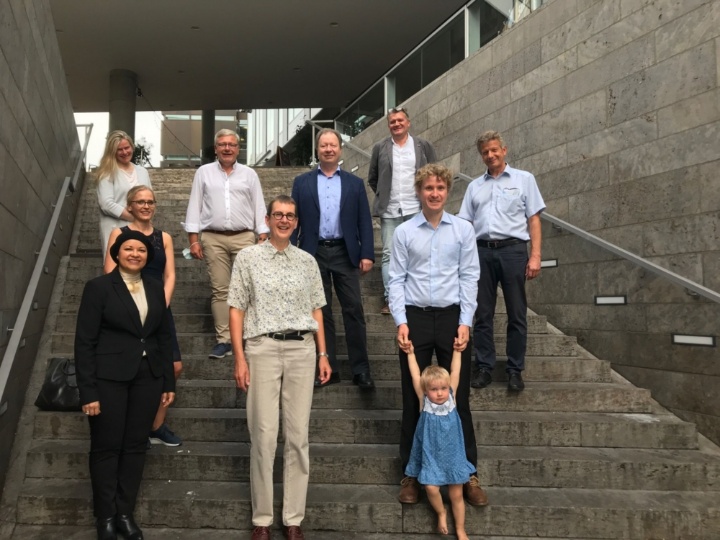 Team page


Overview of the Principal Investigators and Researchers
Working in the Project
Working in the Chitinfluid Project is characterized by interdisciplinary collaboration. Lively communication and collaboration are integral components for successful scientific work in which scientists from different faculties and institutes conduct research together.
At regular project meetings and colloquia, the Prinicipal Investigators and their working groups come together to share new progress, clarify current issues, and explore opportunities for mutual support.